Our Cats' Awards


Lila at home with her ribbons


Lila's Best British Shorthair plaque


Our cats showing at TICA cat shows:

"Balu"
blue British Shorthair boy
PKD negative by parentage
HCM negative by echo at 2 years of age, with a perfect heart.
Screening by heart specialist Dr. Lori Siemens

Regional Winner Supreme Grand Champion YamatoRising Balu of Purrceptive placed 17th Best Cat and Best British Shorthair in the TICA Mid Pacific Region for the 2015-2016 & 2016-2017 show seasons! He is handsome handsome handsome! He has DAARK far apart large copper eyes, big round broad head, short thick coat, is big boned and big all over, with big chipmunk cheeks. He has done very well at the shows, with tough competition! Thanks to YamatoRising Cattery for this wonderful boy!

All of our cats are tested negative for Polycystic Kidney Disease at UC Davis Veterinary Hospital by DNA. Our male cats are tested for HCM every year or two by echocardiogram by

Dr. Lori Siemens

. Any cats testing positive are spayed or neutered. Any queens who produce any kitten with suspected heart problems is also tested for HCM or spayed.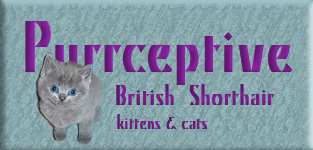 animal artwork
by Donna MacMillen
Website © 2001 | e-mail webmaster